Reserved Camping: Chattahoochee ADA/Accessible Sites - SOLD OUT
All Ages
Thursday 28 July 2022 -
Sunday 31 July 2022
Doors open at 10:00AM
CAMP CHATTAHOOCHEE
Camp Chattahoochee is our largest campground with the most waterfront sites.
The General Store is open for daytime refreshments and late night necessities!
Chattahoochee is the rowdier campground that is great for groups and late night festival go-ers. Our latest noise curfew is here in Chattahoochee, live it up until 4 am!
The Entertainment District in Chattahoochee includes early & late night eats, bar service and the DJ after party.

2 steering wheels will be allowed per site. Each campsite will automatically come with 4 Camper Access bands and 2 vehicle decals. We will not be charging for this second vehicle!

Fulfilment per campsite:

4 Camper Access passes

1 "CAMPING CRUISER" parking pass - In and Out privileges at the festival. The Cruiser is the main vehicle, the campsite purchaser, which must be the first to check in. The rest of your group can check in at the same time or after the cruiser has arrived.

1 "STABLE CAMPING" parking pass - No In and Out privileges - once you are parked on your site, the Stable vehicle must remain parked for the weekend. Only the Cruiser may come and go after check in, or you may use the shuttles! Must arrive with the Campsite Cruiser (the campsite purchaser) or afterwards.
If you book a site and arrive with a vehicle/trailer/RV that does not fit within the site size, you will be refused the site and moved to overflow parking in Hoodoo. Please ensure your trailer/RV fits in the campsite you select.
Click here for more information about our campsites.
Prices listed below are inclusive of fees and taxes. Shipping costs to be added at checkout.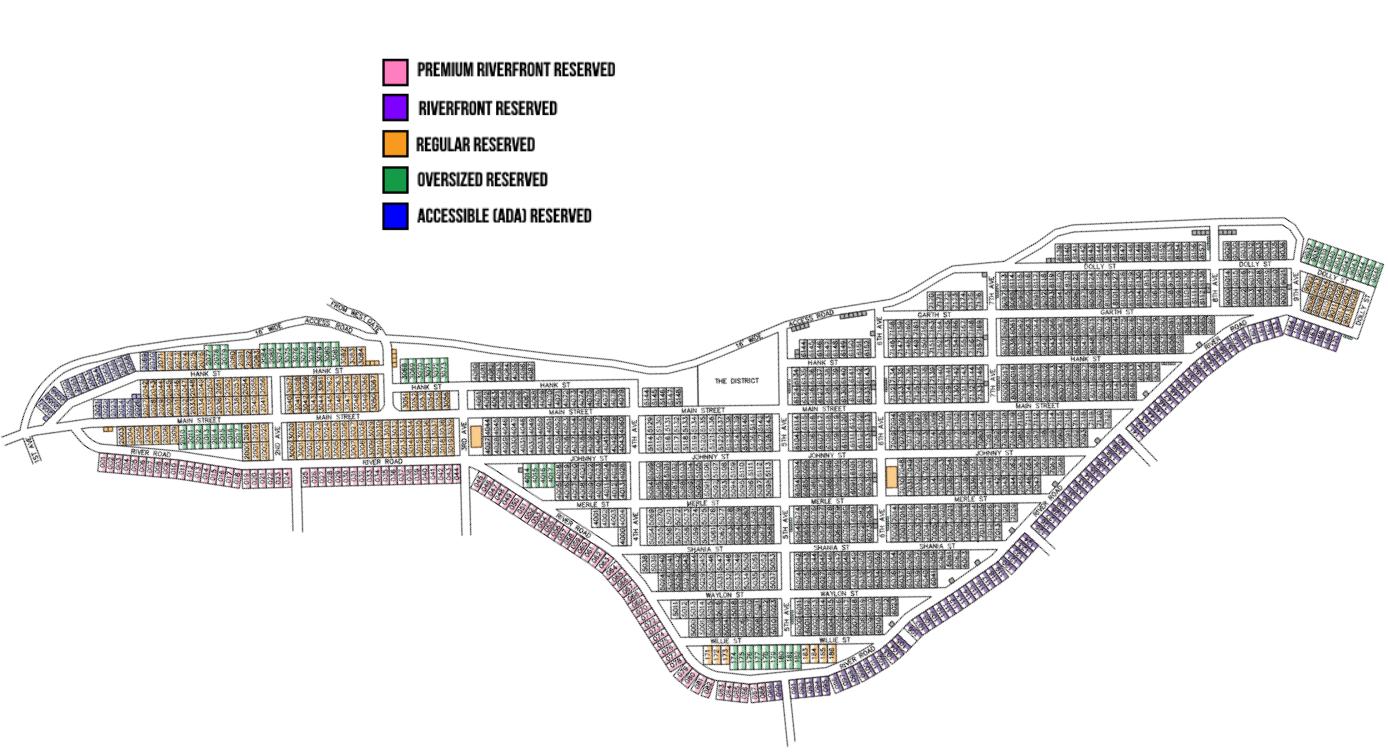 Please refer to the above campground map to find which site you want to purchase (click to enlarge), then select that site number in the below select-a-site map.
Accessible Camping in Chattahoochee is directly across from the bridge entrance into the festival grounds. This is a reserved section that requires a government issued placard.
Chattahoochee ADA/Accessible: $322.00 ($300.00 + 22.00 fees, including taxes)
Delivery Method:
Canada Post Expedited - $25.00/order